So your kiddo is about to learn the violin…awesome! Before you rush out and rent a violin or buy one, here are a few things you need to know.
Rent a violin or buy in the correct fractional size
Kids need violins in just their size to fit their smaller hands and shorter arms and necks, so violins come in fractional sizes. Adults play full-size violins (4/4), but kids go through many sizes as they grow. Typical violin sizes are 4/4 (for adults), 7/8 (rare but normally used by petite adults), 3/4, 1/2, 1/4, 1/8, 1/10, 1/16, 1/32, and 1/64. To give you some reference, I started on a 1/16 when I was four years old and had moved through the other sizes up to a full-size violin by the time I was 11. But I am and have always been quite tall and long-limbed. In fact, according to my local nature center, I now nearly have the wingspan of a bald eagle…so your mileage may vary!
Check with your teacher first
If you'd like to start your child with private lessons, find the teacher first, then find the instrument. Your child's violin teacher may very well have a plan, a system, or preferences.
There are lots of reasons a violin teacher would prefer to connect with parents before they get an instrument:
Very young kids may start practicing on a box violin rather than on an acoustic instrument.
Some teachers have little ones learn the basics–rest position, play position, bow hold, respect for the instrument, etc.–before they move children on to a real violin.
The teacher may have a preference for where you should go to get an instrument.
Your child's teacher has experience working with violin shops and likely knows which places are reputable and which you should steer clear of.
The teacher may want to measure your child before you commit to a violin.
Salespeople at music shops are generally wonderful, but they aren't always experts in violin sizing. Your child's teacher may want to measure your child first to make sure you know exactly what size violin to ask for.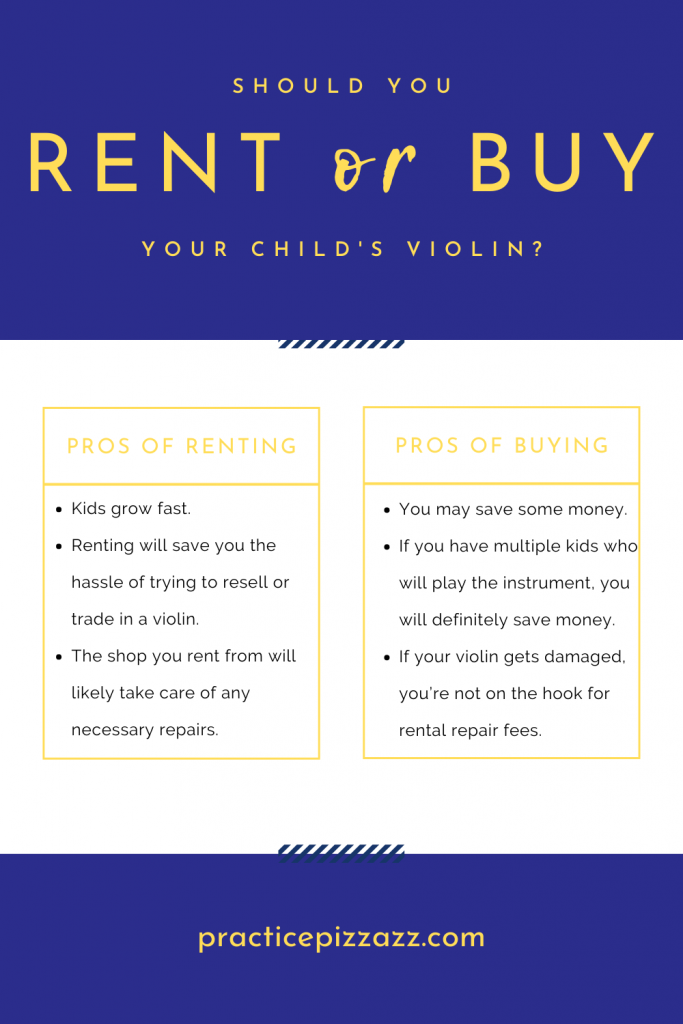 Should you rent a violin or buy?
Both renting and buying have their pros and cons.
Pros–rent a violin:
If their shoes are starting to pinch and their jeans are looking more like highwaters, you can bet they're outgrowing their violin, too. 
Renting will save you the hassle of trying to resell or trade in a violin.
Some kids only stay on one size for a matter of months. You may be stuck with a now useless-to-you violin if you jump into buying rather than renting.
The shop you rent from will likely take care of any necessary repairs.
If something goes wrong with the violin, the shop will normally fix it for you, free of charge. Note: this usually doesn't apply if damage to the rental violin is due to negligence or user error–AKA if your child drops the violin, the rental shop normally doesn't cover the cost of any resulting repairs.
Pros–buy a violin:
Once your child is out of the really tiny sizes, they'll stay with the same size for longer. So for example, the length of time a child uses a 1/64 violin is much shorter than the length of time a child uses a 3/4 violin. So if you buy a larger size, you'll probably save some money by paying upfront and not having to pay monthly rental fees.
If you have multiple kids who will play the instrument, you will definitely save money.
If you've got your own mini orchestra at home, buying rather than renting makes sense.
If your violin gets damaged, you're not on the hook for rental repair fees.
That's not to say you won't have to pay repair fees, but you won't have to pay extra fines. Of course, the best case scenario is that your violin never gets anything but the star treatment, but kids are kids and accidents do (occasionally) happen.
BONUS TIP: Avoid preventable damage to your violin and keep your violin in its best possible condition with help from my online course, Violin Repair & Care.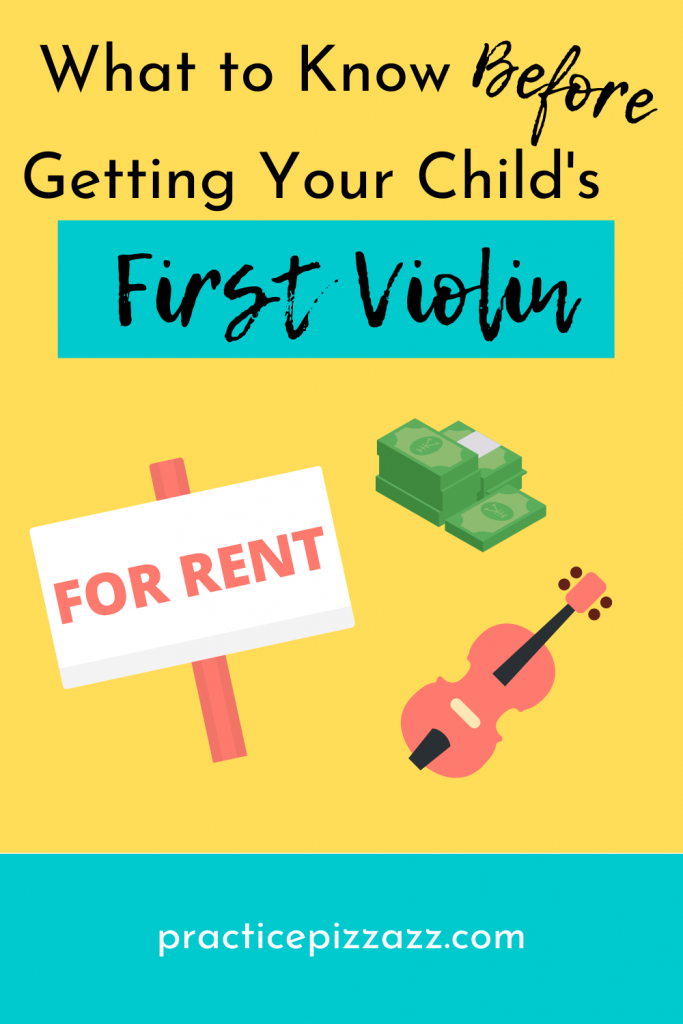 Where to rent a violin or buy
Depending on where you live and what's available in your area, you may want to try to support your local music shop before looking online. Just bear in mind that depending on the music store, employees are normally trained musicians but not necessarily trained violinists or even string players–which is why it's so important to know what size violin your child needs before swinging by the store.
If you don't have a local music store or luthier shop to support (a luthier is a violin maker/repairer), getting an instrument online can be a great option. For violinists in the USA, I recommend Shar Music. (I've been a Shar customer for half my lifetime and have no complaints.) You can read about their rental program here.
If your budget is tighter but you really want to purchase a violin instead of renting, this is the full-size violin I use to film video tutorials. It's nothing fancy, but it gets the job done! For a student, it's a great short-term solution. I wouldn't suggest practicing on this instrument for years, but for beginners, it definitely works. Fair warning: some teachers call non-wood, cheaper alternative instruments "VSO," or "violin-shaped objects." But this one from Amazon is affordable, accessible, and doesn't need repairs from the get-go.
Where NOT to get a violin
If you peruse eBay or frequent garage sales or flea markets, you may be tempted to snag what looks like a good deal on a used violin. Beware! These "deals" are rarely good deals at all. Most sellers are not experts and can't give a detailed history of the instrument and the care it's received over the years. 
Besides that, there are lots of things that neither buyer nor seller can generally tell without a trained eye and lots of experience. For example, are any of the seams opening? Are there cracks? (Cracks in violin wood can look infinitesimal but can grow to be a massive headache, even making a violin next to worthless.) Has the violin been properly maintained?
Even if you get a used violin for free, you will likely need to pay for potentially expensive repairs to make it playable: new strings, new horsehair, new thumb leather, refitted pegs, reglued seams…and those few things off the top of my head can add up to hundreds of dollars. Rather than taking the risk, save yourself the hassle and expense and don't try to snag a deal on eBay or at a garage sale.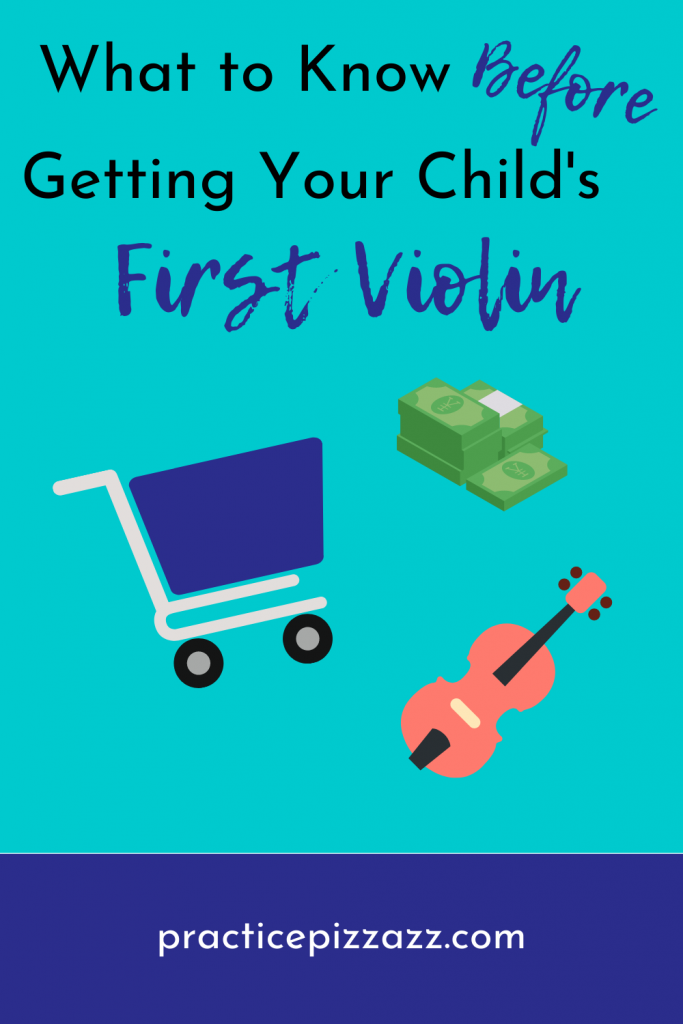 What else will you need besides a violin?
Before you leave the shop or checkout online, don't forget that you'll need some key accessories in addition to the actual violin and bow. One essential accessory that I've seen music stores forget to offer or parents forget to ask for is a shoulder rest or sponge. But there are a few more items you'll need to get started. For a full list, check out "Violin Accessories: 11 Essentials to Keep in Your Case."
What's next?
Once you've got a good instrument and the essential extras, it's time to tune the violin and start having fun!